INVESTIGATION…. RURAL ELECTRIFICATION PROJECT: Completed on paper, nothing on ground as Kano communities are left in darkness
The Nigerian government budgeted funds to provide electricity for some rural areas in the country. On paper, the projects are tagged completed, but evidence on ground suggests otherwise. Linus Unah visited one of such communities in Kano State still wallowing in darkness, years after the contractor, and agency in charge claimed the job has been done.
Auwal Abdullahi is weary of leaving the remote village of Yan Lahadi in search of petrol to power his generator every day.
There are no petrol stations in Yan Lahadi in Wudil local government area of Kano state, so Abdullahi has to spend about 200 naira every day to get to petrol stations along the highway that leads to the city of Kano.
He buys up to eight litres of fuel to run his mobile phone charging store built with corrugated zinc roofing sheets and wood.
Sometimes when he runs out of gasoline, he would have to buy from petrol vendors in the village who sell from makeshift stands, usually at a higher price. In fact during the rainy season, he has to completely depend on the black market due to the poor state of the dusty, unpaved road that runs through the village.
"I spend up to 1,500 naira every day on fuel," the 20-year-old explained with a long, weary sigh. "I am not happy that I am buying fuel always because it reduces my profit."
Like Abdullahi — tailors, welders, computer centre operators and residents in Yan Lahadi are unhappy that they are yet to get electric power supply. Made of about 450 households, this agrarian community farms mostly pepper, maize, groundnut, millet and beans.
For more than four decades since the village came into existence, they have never had electricity, said village head Dalhatu Galadima.
Unconnected to the national grid, the serenity of Yan Lahadi is drowned out by the shrill of petrol-powered generators in a handful of shops around the community. Residents hoped and prayed that one day they will be remembered by the government.
Respite, it seems, came their way in 2017 after Hon. Muhammed Wudil Ali representing Wudil/Garko federal constituency at the House of Representatives nominated a rural electrification project for Yan Lahadi and Marega, a nearby off-grid community made up of mostly herders and farmers.
In the 2017 appropriation act, 23 million naira was budgeted for the electrification of Yan Lahadi and Marega with the code ZIP811. The project was under the control of the Ministry of Power, Works and Housing but was to be implemented by the Nigerian Rural Electrification Agency (REA), which caters to rural and underserved communities.
By October that year, the REA invited pre-qualified companies to submit their financial bids for capital projects under its care. These projects involved constructing, commissioning, operating and maintenance of solar mini-grids; provision of solar home systems and solar street lights; construction of injection substations and network/grid extension projects.
The project for Yan Lahadi and Marega fall under the last category — network/grid extension projects – with the LOT number: LOT ZE334.
In the end, the contract was awarded to Vinez Projects and Investment Limited, a Lagos-based contractor.
| | | | | | |
| --- | --- | --- | --- | --- | --- |
| | | | | | |
| | ELECTRIFICATION OF YAN LAHADI/MAREGA IN WUDIL LGA,KANO STATE | | | | |
Source: 2017 APPROPRIATION ACT FOR ZONAL INTERVENTION PROJECTS
For the people, learning about this project brought sheer joy and huge expectations. As the contractor began to install more than a dozen concrete utility poles to hold overhead power lines, their happiness at the prospect of having power supply increased.
Soon, a transformer, enclosed by concrete block and metal fencing, was mounted in the Yan Lahadi village. Beside the fence lies a sign board that spells out the project title, contractor, and duration of the project: four weeks.
However, it is nearly two years now and there is still no electric power supply in both Yan Lahadi and Marega communities. In fact, nothing has been installed anywhere in nearby Marega community, no signs that power was coming to the residents of this settlement of over 1,000 people surrounded by mud homes with raffia fencing.
Village head Dalhatu Galadima accuses the contractor of cutting corners.
"We have a lot of issues with the entire project," 55-year-old Galadima remarked.
"The contractor used an old transformer that has been left here since 2010. They just painted it again to cover the oldness and installed it here like it is a new one."
At least five villagers who spoke to Ripples Nigeria confirmed that the transformer was, indeed, the old one that has been collecting dust in the community for over seven years.
On its website, REA claims 93 percent (or 438) of the total 471 projects within the 2017 appropriation budget were completed, and added that only a meager 7 percent (or 33 projects) were still ongoing.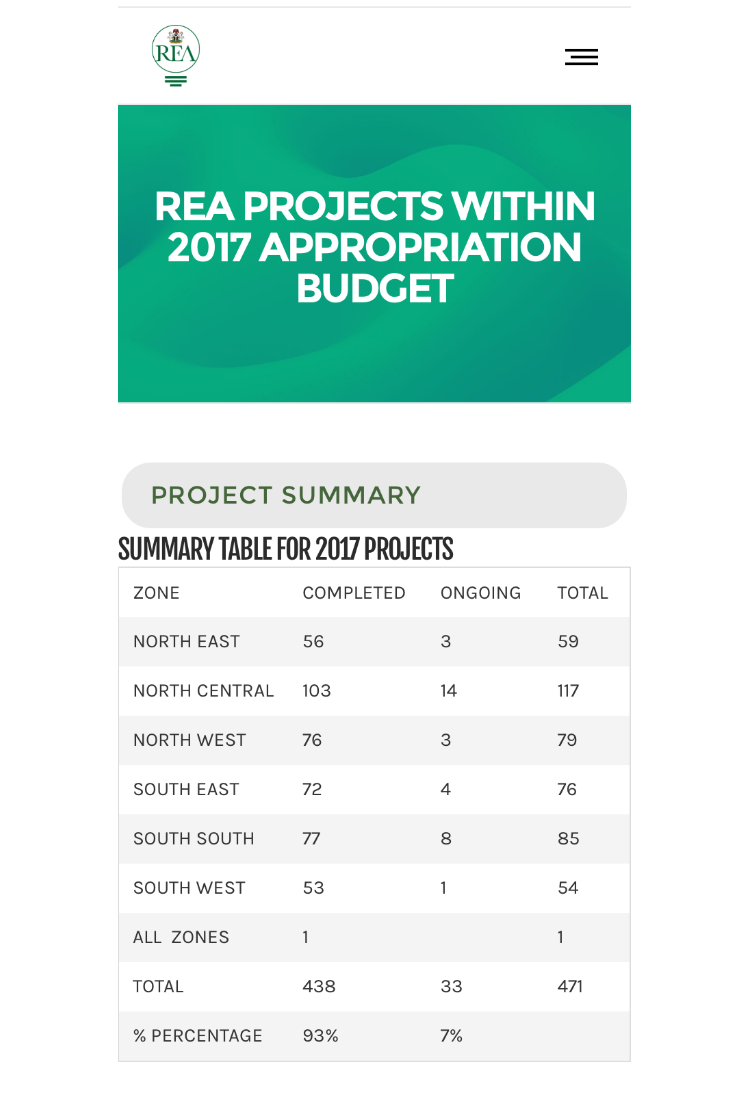 Under the capital projects for the northwest region, the agency remarked that the electrification of Yan Lahadi/Marega was "completed as awarded", meaning the project was neither ongoing nor abandoned, and that the agency believes it was completed.
Ripples Nigeria sent emails to the agency's northwest zonal office coordinator Mr Magaji Dambatta and REA's managing director and chief executive officer Damilola Ogunbiyi.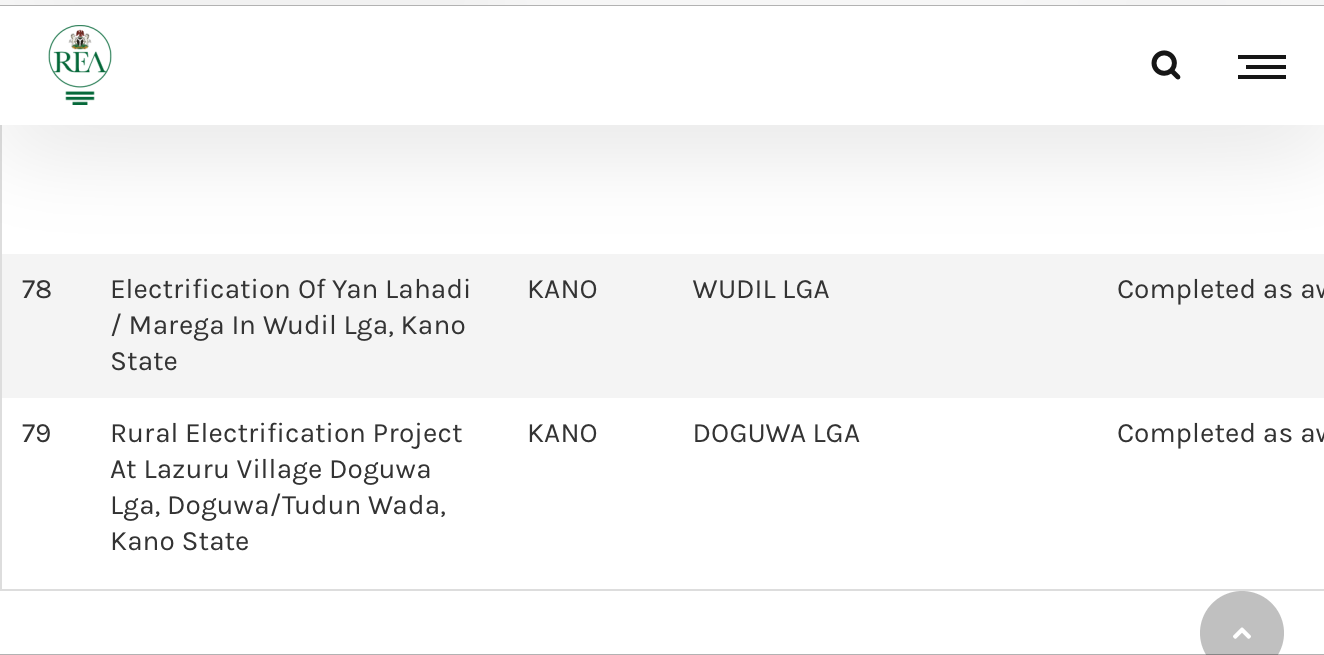 "I will look into it and get back to you," Dambatta wrote back saying. He was yet to do that, as at the time of this report.
With nearly two years gone and the project yet to be completed, villagers have resorted to using LED torch lights and kerosene lamps in the night and small businesses continue to incur interminable expenses to operate.
"We have tried to call numbers of our federal representatives to report what is happening but once you say 'I am calling from Yan Lahadi to complain about…' they will just cut the call," Galadima remarked, breaking into bouts of laughter.
"Who do we cry to now?"
If Yan Lahadi and Maregi are electrified, it will eventually increase efficiency and productivity for tailors, a computer centre operator, welders, kiosks selling cold water, soda, ice blocks, and those charging mobile phones for a fee.
"Without electricity, all these businesses will not move fast," argued Yusuf Dalhatu, a father of one who runs a tailoring shop in the community.
Dalhatu is unhappy that he barely works during the day and has to wait until nightfall to use his electric sewing machines.
"I work mostly in the evening to save fuel and to get a lot of people to help me so we can work very fast and use the fuel [efficiently]," the 25-year-old tailor says.
"But if there was electricity in our community I won't worry about fuel and I can work any time I want."
In Marega, residents look to Yan Lahadi for hope.
"Yan Lahadi is like our city here," said 50-year-old Murtala Garba, "and until they get electricity we will not get it."
Garba, a father of six, is hopeful that the government will complete the electrification project
"When electricity finally comes," he chuckles, "you will see that people will buy TV, fridge, fan, grinding machines, and pressing iron. Just all of those things that make life easier."
Meanwhile in Yan Lahadi, inhabitants look to the government for support.
"We do not have money to do this on our own," village head Galadima lamented.
"They made us to have a huge hunger for electricity and I think it will be good if our government can come and finish it so we can enjoy it."