INVESTIGATION… Victims tell their stories of how Lagos Environmental Sanitation Officers maltreat, extort residents
In this second part of an investigation on how LAGESC officials extort Lagosians, KELECHUKWU IRUOMA spoke with some victims, and reveals how the agency's officials exploit offenders' ignorance of the laws and its consequences to dupe them.
Christian Nwaka, 25, was arrested by officers of LAGESC stationed at Ikeja Along bus stop in December 2018. Nwaka was rushing to meet up with 'The Experience,' a religious programme, when he was apprehended.
"After alighting from the bus, I hurriedly crossed the first and second lane to the other side of the road which led to the computer village, while dodging the ever-present traffic. Five seconds later, someone crossed his arm firmly over my shoulder from the back. I shrugged his hands off my shoulders and warned him not to touch me again. He came again, this time more aggressively. He repeated the same action while showing me a plastic identity card."
Before he could mutter more protests, Nwaka was surrounded by three men in mufti who rough-handled him because he was avoiding arrest. He was arrested and locked inside the black maria.
"They started saying I should pay the sum of N12,500 to bail myself from the crime I had committed. I argued that I have not committed any crime and that they should let me go. Even though they slashed the fee to half, I kept saying I didn't have any money on me. I got crazy when they suggested that I do a transfer of N6,000 to them."
By then Nwaka had spent over one hour inside the black maria because he was reluctant to accept the fee he was asked to pay.
"They came down to N4,000 and then N2,000. I stood my ground, I had nothing on me. Whenever they forcefully wanted to search me, I would pull back, ensuring none of them could reach for my pocket. Since they won't let me go, I decided to drop N1000."
Nwaka was free at last but the experience in the hands of the officers, according to him, was a trauma.
Another victim who preferred anonymity said he was harassed by the officers who tried to extort him at Oshodi under the bridge.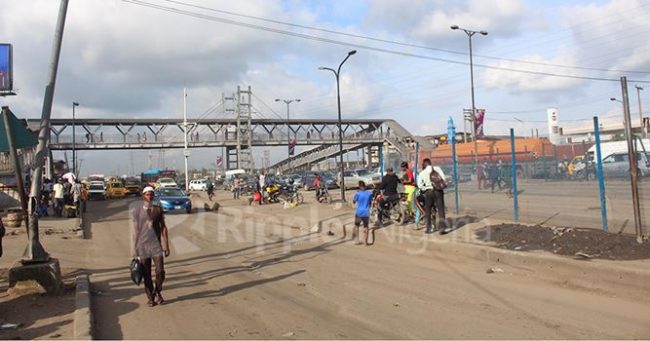 "It was on a Friday. I was on my way from Idumota going to Egbeda. I alighted at Oshodi. Fairly new in Lagos and not previously aware of pedestrian bridges and their implications of not using them, I decided to cross the road to board a bus to Egbeda. As soon as I got to the pavement dividing the two roads. I was apprehended by two men."
He was taken to a black maria and told to enter. He refused to enter. He was confused. He inquired what he had done but was told to enter the van. "I said no. Four of the officers jacked me up and threw me inside the [black] maria."
Officers who arrested him were in mufti. He never knew they were officers of LAGESC until he was thrown inside the van.
"One Ige Seun Gideon entered the black maria wearing the LAGESC uniform with a name tag and started demanding for bribes. I told him I don't have kobo that as a newbie, I hadn't been sensitised on pedestrian bridges nor aware that there were consequences for not using them."
"He said I would meet a judge and be sent to prison [if I do not pay]," he was threatened by Ige. "Some people arrested paid N500 and N1,000. I told him about my profession and the implications of delaying me. But the bribe he was after was more important."
He was not ready to pay. He was later set free after about one hour. "I didn't pay a dime. But had lost quality time. I just think the whole scheme is another way of extorting citizenry."
He said the idea of setting up LAGESC might be good, but the implementation is another "chop I chop mechanism" from officers.
Dele Fayemi escaped from the hands of the officers while he was apprehended at Ojota bus stop last year December while going for The Experience. "They arrested me immediately [I crossed the road] and was even looking for means to collect money from me," he said.
"But somehow I found my way out. I didn't give them anything. You know, just as the Police do. They told me I should have used the pedestrian bridge. Yes, I was guilty, my bad though. They asked me to pay a fine of N5,000. I begged them and even spoke Yoruba with them that I was in a hurry. I would say I was lucky because that doesn't work for most of them. So, they just left me and warned me never to try it again."
What the law says
Mr Idris Adesina, who I was referred to when I asked to speak with the Executive Secretary of LAGESC, said that the Lagos State government constructed the pedestrian bridges to prevent Lagos residents from being hit by moving vehicles.
"We tell people for your safety, use the pedestrian bridges. We have to force people to use pedestrian bridges. Anything that happens, they will call the government. Must they call the government all the time? All these must stop."
He stated that while the agency is structured to arrest defaulters and subject them to community services for the crime they commit, first-time offenders are advised and warned never to cross the road again where pedestrian bridges exist.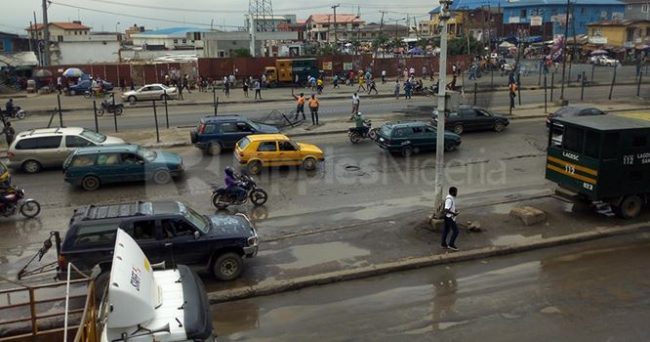 However, in this reporter's experiences with the officers, they don't bother to hear if someone is a first-time offender or not. They just arrest and extort people.
"The issue of the enforcement of the pedestrian crossing is not meant to be something that will attract fine per se,'' says Oyenola. "The government meant it to be something that will deter people [from crossing the highway] not necessarily a move to do with parting with the money."
"The way the government has been handling that is that we normally do community service. They [offenders] will be arrested and we separate them from other environmental offenders, then hand them over to the community service department for community service assignment."
No fine is meant to be collected by officers
The assignment Oyenola means here is the cleaning of the environment. It could be cleaning of gutters, sweeping the streets or parking refuse.
"If we have our normal vehicles in the agency as at that time, we will take them out to bus stops, garages, markets, where we will give them working tools to work."
He said as soon as the offenders are done with the work to the satisfaction of the officers in charge, they will be called back to the office, where their names will be profiled and given a letter of undertaking promising they won't cross the highway again. "It is not a fine thing." he reiterated. "Whatever I tell you, just know that that is the standard."
When this reporter explained to Oyenola that his officers are extorting residents who cross the highway rather than subject them to community services as the law stipulated, he said it is the offenders who beg the officers to bribe them so that they can be released.
"After they [offenders] have been arrested and put in the black maria, some of them are the ones who will be saying please let me give you something [money]."
"And if such a statement should come to the hearing of officers who are not on top of their assignments and they do not see any senior officer who will checkmate him, he will quickly settle it [collect money]. But that must not be the norm for the agency. If any money exchanges hands between an enforcement officer and the citizen, it is actually because of the ignorance of the citizens and not that it is the norm."
He said if at all any fine will be paid for any penalty, it must first be pronounced by the mobile court. "It is the court that will decide the amount to pay. Once it is declared, you [the offender] will go to the account section, pay the money and obtain your receipt."
Experience at Ojota
I was at the Ojota bus stop along Ikorodu road on August 9 to also commit the offence of crossing the highway where there are two pedestrian bridges.
LAGESC's van was parked under one of the bridges. When I visited, the officers were not working. They allowed people to cross freely without arresting, or sending them back. Subsequent visits on different occasions were also the same.
When I visited Ojota for the last time on September 4, officers were fully kitted and stood on the pavement dividing the two roads. They sent people who wanted to cross back, preventing them from being possibly hit. Also, they had ribbons tied from a pole to another pole to raise the consciousness of people who intend to cross the highway.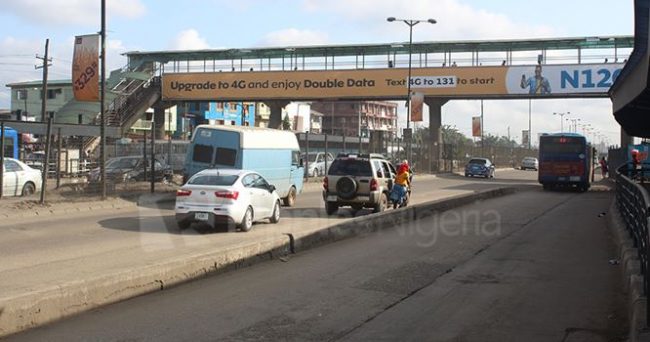 But these ribbons are not often used by officers at Ikeja Along and CMS. CMS officers had three signages stationed at different places, but it's not enough to raise consciousness and prevent people from the cross. The ribbons should act as a sign of a blockage, meaning 'no road'.
This is supposed to be the norm; making efforts to protect citizens from traffic accidents.
While the officers at Ikeja Along and CMS are supposed to be around the highway sending individuals who want to cross back, they move around waiting for them to cross so that they can arrest, lock them up and extort them.
"Government should be held accountable for its officials extorting citizens"
The Executive Director of Global Rights Nigeria, Abiodun Baiyewu, said the job of ending extortion among officers of law enforcement agencies should be everyone's job.
"The best thing Civil Society Organizations (CSOs) can do is to continue to hold the [Lagos State] government accountable for its officials extorting citizens. They [citizens] should be protected. The reason the overhead bridges are there is to protect citizens from causing harm to themselves, than protect them for the officials to continue to subject them to extortion," she said.
"The act of extorting citizens who break or disregard the law is itself a crime and not justifiable by any reasons," she continued. "A lot of citizens do not know what exactly the penalties for the offences are and so when they are threatened by these officials with very high sounding punishments, they tend to yield, especially when they are threatened with imprisonment rather than community service."
She said CSOs need to up the campaign for citizens not to give bribes and to ensure there are places they can report the incident of extortion by any LAGESC officers. "If there are places citizens can report these officials, you will notice a drop in the incidence of extortion among law enforcement officers."
To also stop the extortion, she urged the Lagos State government to pay officials well and early to prevent them from extorting citizens. She said officers who extort citizens should be brought to justice.
"The LAGESC officers should be forced to face the full force of the law. If they do the crime, they should do the time. They should be treated like criminals, which they are in such circumstances."
This report was supported by The Premium Times Centre for Investigative Journalism (PTCIJ)