SPECIAL REPORT… Inside Ekiti and the challenges of pregnant teenage girls going to school
Clad in a white shirt and green skirt uniform, sixteen years old Zainab (not real name) narrates how she was raped and eventually got pregnant.
She sat down with little difficulty to talk with this reporter, conscious of her new self, her bulging stomach wanting to get attention, she is in the third and last trimester of the pregnancy.
Her white shirt, although carefully buttoned down, revealed it was not meant for such task, as it stretched to accommodate the extra occupant, the green skirt school uniform could not be properly zipped, however, it tried to stay on her waist.
Zainab, 16, an SS1 student in a secondary school in Ado-Ekiti, Ekiti State was impregnated in JSS3 by a neighbour's friend who lured her to a farm and "raped" her, with  a threat never to say a word, while she was attending a school in Ido-Ekiti.
Teenage pregnancy is a contributing factor that keeps the Nigerian girl child out of school. However, with the new policy "Operation keep girls in school" by the Ekiti State first lady, Mrs Bisi Fayemi, in November 2019, pregnant teenagers such as Zainab now have the opportunity to continue their education with their pregnancy.
However, critics have said that pregnant teenage students ought to be suspended until they have put to bed and not to be seen within the school premises, so as not to encourage others. They argue that such a child has disregarded the school's rules and regulations and should be disciplined.
They said that it supports moral decadence and therefore called for a review of the policy.
According to UNICEF, 60 per cent of the 13.2 million out of school children in Nigeria are girls. The girl child in Nigeria encounters many barriers in acquiring education such as early marriage, religious mis-interpretation, poverty, inability to access healthcare andteenage pregnancy. However, the government is making little or no effort to keep these girls in school.
How the secondary school student got "raped"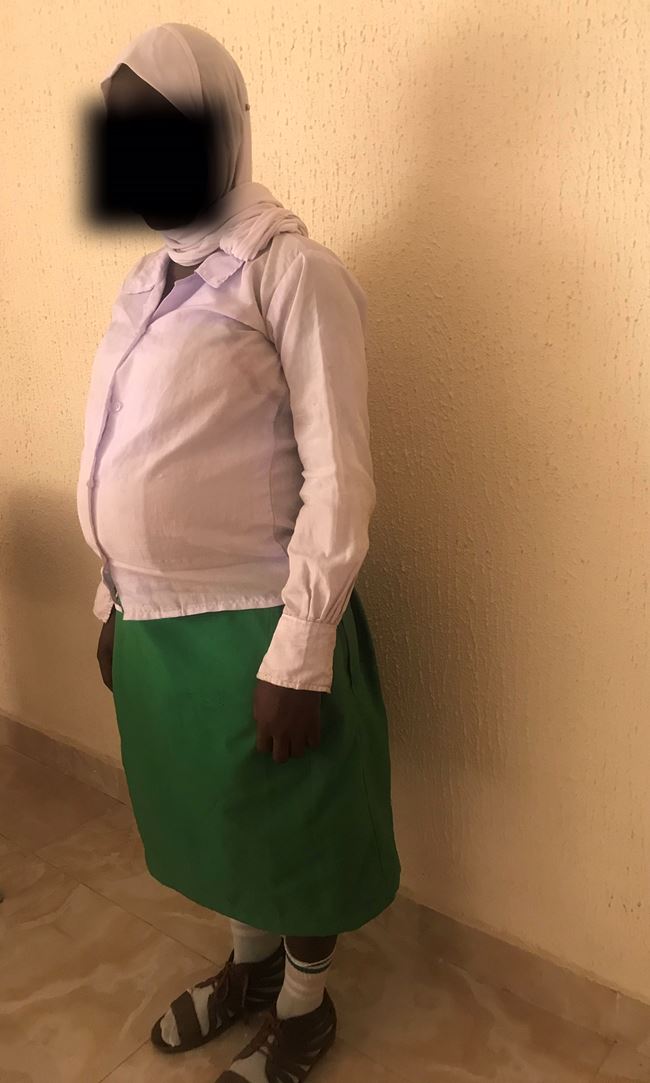 In February 2019, Ojo Owoeye and Ojo Emmanuel rented an apartment from Zainab's mother. On May 25, 2019, Mr. Owoeye, asked her mother to allow Zainab to go with them to the farm to collect some cocoyam, which she obliged.
The girl claimed that while the cocoyam was ready to be taken home, Mr. Emmanuel said he wanted to take something from the second farm and he will be back.
According to her, while she was waiting, Mr. Owoeye threatened her with a local gun to lie down, and he allegedly raped her.
"Mr Ojo Owoeye used force to rape me, telling me that if I should tell my mum at home, they will kill me. His friend said that, he is living in our house, that is Mr Ojo Emmanuel, that if I say anything, that they will kill me. He used his gun to threaten me that if I don't agree that he will kill me on the farm on that day", young Zainab said.
Speaking about how she discovered that she was pregnant she mentioned that it was discovered after two months when her mother took her to a relative, who is a nurse. She said that her mother was shocked, and she asked to know who impregnated her, but she would not say anything, because she was scared they might kill her.
She added that she connived with a male school mate to pose as the one who impregnated her.
"My mummy asked me to bring the owner of my pregnancy, I told one boy in my school to follow me to my mummy's house, he will tell my mummy that he was the one that gave me pregnancy. So the principal of my school and the mother and father of the boy now came to our house to tell my mummy that I am a liar, …that I want to lie against him",  Zainab said.
She mentioned that she revealed the truth when a "mummy" in their house came out with a Bible for her to swear with.
She said that when her mother accused him (Owoeye), who is a father of two of impregnating her daughter, he did not deny it. He also came to their house one evening to curse them when he learnt that they had gone to report the matter to the Federation of International Women Lawyers, FIDA, Ekiti.
What the law says 
The Child Rights Acts was passed at the Federal level in 2003. This Act further enshrines the rights of all children to free and compulsory primary education and to freedom from discrimination, among other rights.
A representative of the Ekiti Development Foundation (EDF), Gender and Vulnerable Person's unit, Miss Precious Olofiyokun, said the policy championed by the Ekiti State First Lady,
is a laudable one as it encourages the girl child to continue and complete her education.
"Because of society's stigmatization and the way the society look at them this is really reducing the number of female professionals we have out there …with this her (Mrs Fayemi) policy and initiative, its actually balancing the equation between the male and female.
She said that the organisation has handled nine cases of such, and they were all as a result of rape.
Miss Olofinyokun, explained that they help the victims from the pregnancy stage to delivery.
Ekiti Principal talks on "Operation keep girls in school"
According to the Vice-Principal, Academics, of All Saints Anglican School, Adenike Ogunleye, bringing pregnancy to the school, "is not the best of it and it will even pollute these children the more. What she (Ekiti state First Lady Erelu Bisi Fayemi) should hammer on them is to abstain from sex.
"Sex outside marriage is what the adolescents are highly interested in now, even for Her Excellency, Erelu (Bisi) Fayemi to say that they should be bringing the pregnancy to the school, me, I am not subscribing to it, we do not know the kind of a lesson they want others to learn from them (pregnant teenage girl).
Mrs Ogunleye said that in the olden days, it was a thing of shame to be pregnant outside marriage and when such thing happens to a student, she usually avoids being in public. She added that as a result of policies such as this, there will be an increase in the rate of pregnancy amongst teenagers.
She emphasized that it was the collective responsibility of both parents and teachers to educate these children about abstinence. She added that teenagers need to know the difference between "a boyfriend, a lover and a bed sharer."
However, she said in a situation of rape, that the Ekiti State First Lady, has been campaigning against, that such a child if discovered early should be taken to the hospital as a matter of urgency, so that it does not result to pregnancy. She advised as a child right advocate that she is, to allow such a child visit the school, but the child will only do such when she is strong enough.
On her part, the principal of a female boarding school, Christ Us Victor Girls school, better known as Christ Girls', Mrs Oluremi Esan, speaking about the policy said that it was not an encouraging initiative/policy.
She corroborated Mrs Ogunleye's claim that it will lead to a surge in teenage pregnancy. She added that such policy would not be effective in this kind of society.
She noted that while she was in school, any student who got pregnant was taken away from the school to her parent's home in a "coaster" bus, with her luggage.
She said that some school principals opposed the policy during a meeting they had with the First Lady. However, they were "convinced" to keep the girls in school.
She added that such a child should be kept away from school while pregnant, but could return after her delivery, because the school did not have the facility to accommodate and support such girls in the system.
"It is not out of school totally, she can go and stay with her parents, when she gives birth she can come back to school. …but for pregnant teenage girl to stay in school, it is not realistic. It is not even safe,
She advised that for the policy to be effective, a separate hostel should be built for them with a single bunk bed with nurses and counsellors made available to them.
The principal of Fountain International School, Ado-Ekiti, Mr. Akpono James also weighs in.
"One, it will encourage other girls to go into promiscuity, with the mind that it will not disrupt their academics, the presence of pregnant girls in the school will distract the attention of other students in the class, because they will be looking at the tummy, Mr Akpono said.
He mentioned that pregnant teenage students should be allowed in school only after delivery.
While stating that with the new policy, the other students should be properly educated, so that they will not be distracted in the classroom, he also said that the interest of a pregnant student should not override that of other students.
He advised parents to encourage their wards to go to school after delivery.
Does the state have the facilities to support the policy?
A report by Independent newspaper, titled "How Infrastructure Decay is Derailing Universal Basic Education in Ekiti", it revealed that at least seven schools in the Ijero and Ido-Osi local government areas in Ekiti state lies in deplorable state.
Despite having produced foremost professors in Nigeria, the state accommodates schools with pathetic infrastructures, which on its own puts a question mark on the feasibility of implementing such an initiative of the First Lady.
Editor's note: Zainab has been delivered of the baby, before publication of this story.